Past Fundraising Events
---
Playwriting Challenge 2016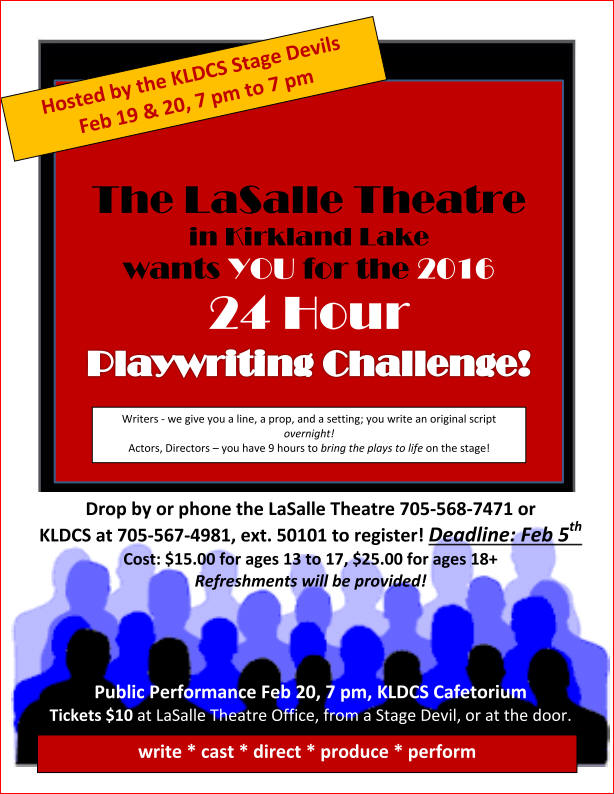 Haunted House 2015
After the success of last year's Haunted House at the LaSalle Theatre, The KLDCS Drama Club and SaveTheLaSalle are ready to scare again!
Running October 16, 17, 23, 24, 30, and 31, the Haunted House at the LaSalle Theatre is back to challenge even the calmest and coolest with its frights and terrors!
The Haunted House will be open to all ages 7:00 pm to 10:00 pm with guided tours of the first two creepy floors for ages 8 and up. Ages 14 and up will be allowed access to the forbidden and terrifying 3rd floor – if they think they can handle the horror!
On Halloween Night, the Haunted House will be open at 6:00 pm so younger children can be home in time to enjoy CJKL's annual Spooktacular.
Admission is $4.00 for ages 8-13, and $6.00 for ages 14+. Proceeds from the Haunted House will be going to the KLDCS Drama Club and SaveTheLaSalle.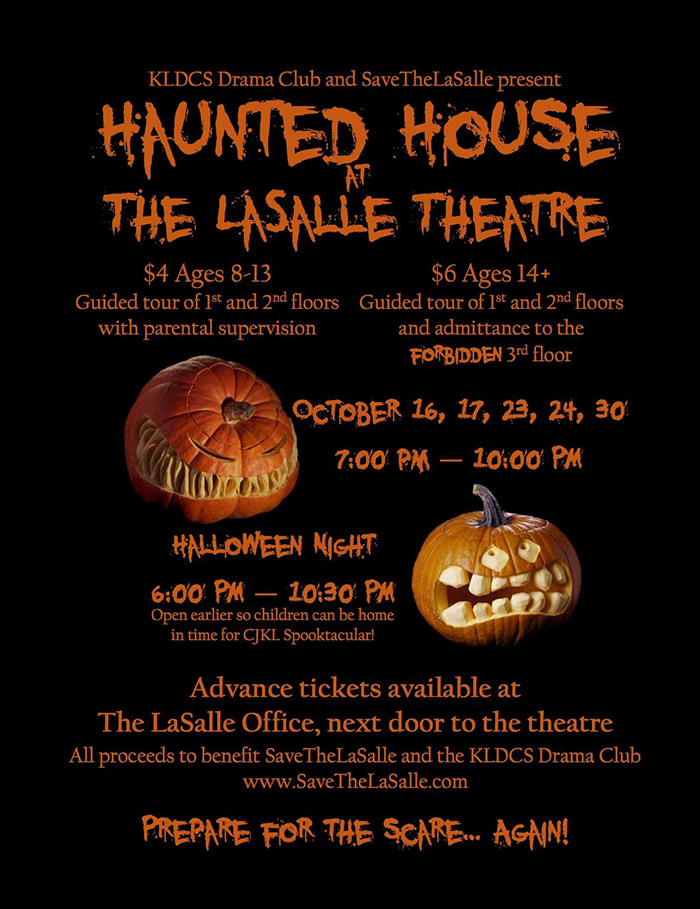 Miss Caledonia
In support of SaveTheLaSalle, Kirkland Lake Arts Council Proudly presents Miss Caledonia.
Octoer 18th, 2015
2:00 p.m.
Location: Northern College Auditorium

Ages: all ages
Cost: $20 Adult | $10 Student
Tickets available at The LaSalle Office, Federal Variety, The Hobby Shop, The Jewel Box, Garln's (Englehart) klartscouncil.com
Lights. Camera. Farm Girl. It's 1955 in rural Ontario and Peggy Ann Douglas is hitching her wagon to the pageant circuit in the hope it'll steer her to the bright lights of a Hollywood movie set.
To tell the tale, Second City performer and Canadian Comedy Award winner Melody A. Johnson plays multiple characters across time and space in this tour-de-force acting feat.
A play packed with baton-twirling, song-belting, and some fantastic fiddler accompaniment written and performed by Alison Porter, this solo-show is for anyone who knows what it's like to dream big and hustle to make it happen.
Miss Caledonia has toured across Canada, including runs at Halifax's Neptune Theatre, Ottawa's National Arts Centre and London's The Grand Theatre. Melody A. Johnson is the recipient of the Ontario Presents 2014 Artist of the Year award for her work touring Miss Caledonia.
"Looks, charm, and no end of congeniality...a winning show you'd take your grandmother or granddaughter to in a wink." – The Globe and Mail.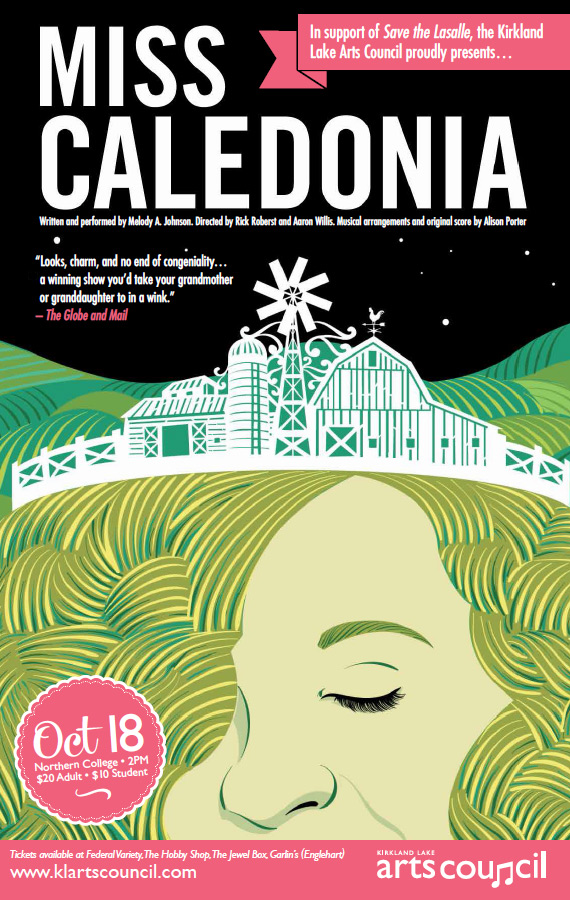 Shakespeare in the Park: The Comedy of Errors
LaSalle Theatre Productions Presents the all-local production of The Comedy of Errors.
Dates: June 19th-27th, 2015 (except Sunday June 21 and Thursday June 25)
Time: 7:00 p.m.
Location: Wright-Hargreaves Park
Rain Location: Trinity United Church

Ages: all ages
Cost: Donation to Save The Lasalle for Shakespeare in the Park (all donations over $20 receive a tax receipt)
Bring: Bring a blanket, lawn chairs and/or picnic
Hosted by: LaSalle Theatre Productions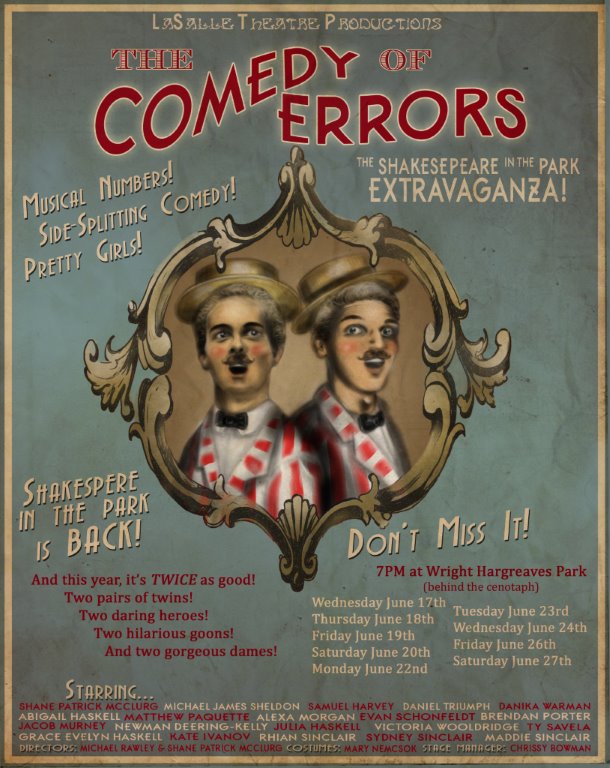 Dec 11,12,13 2014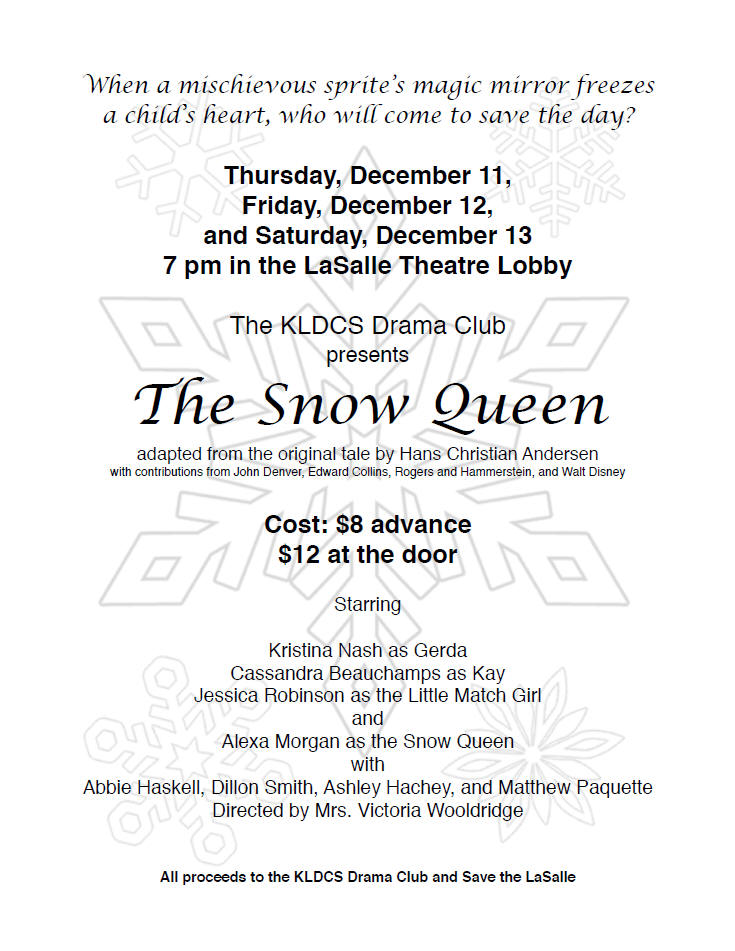 Oct 17,18, 24,25 and 31, 2014
The KLDCS Drama Club and SaveTheLaSalle Present
October 3rd and 4th 2014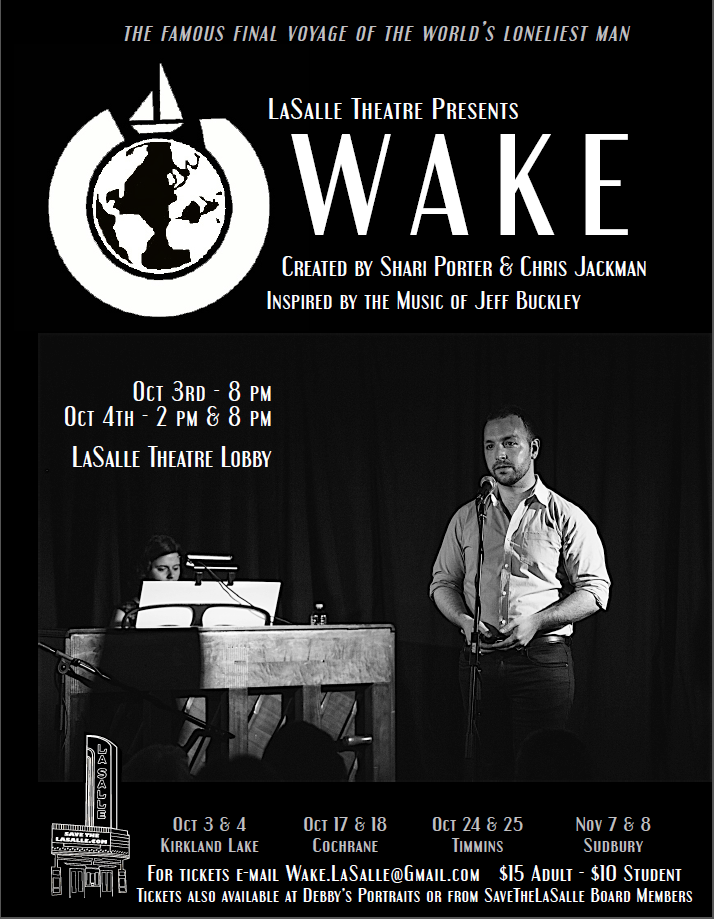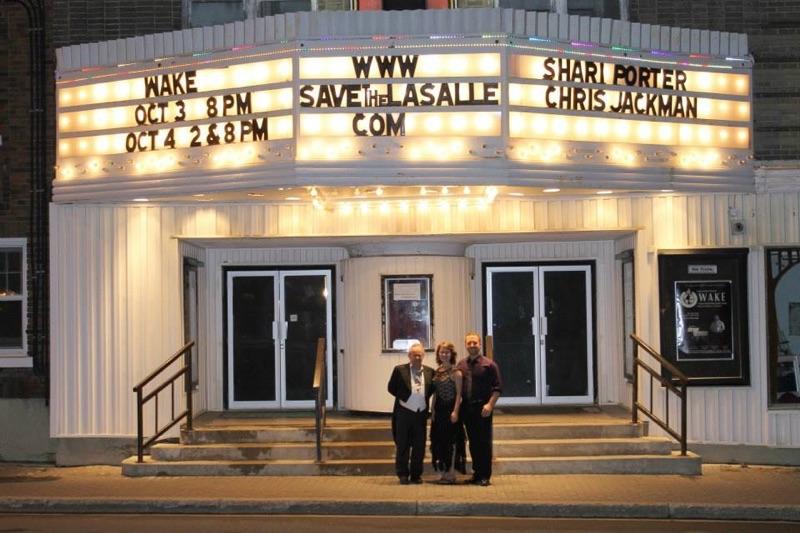 September 26th & 27th 2014 - 7 PM
IF THESE WALLS
COULD TALK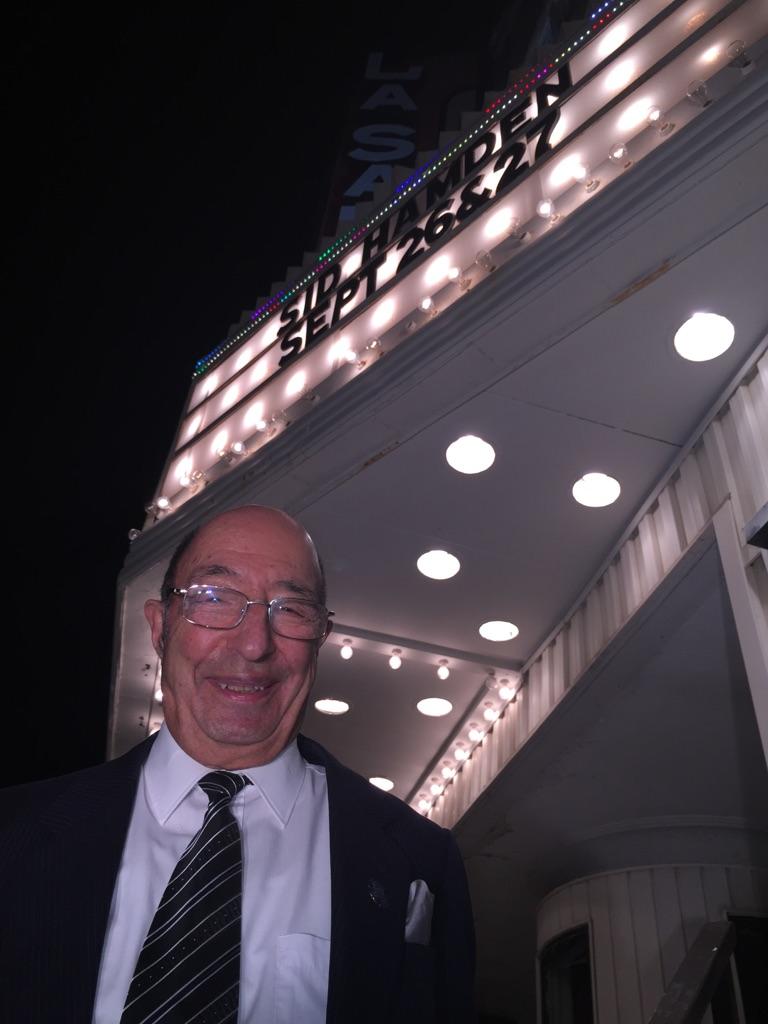 A SEMINAR BY SID HAMDEN ON THE HISTORY OF THEATRE IN KIRKLAND LAKE
Come and join Sid as he takes us on a journey back in time, to the days when Kirkland Lake was a bustling hub and theatre was the prime social activity of young and old alike. Live the "Entertaining Theatre Life", from Vaudeville and black and white film to the brilliant colour motion pictures.
September 26th & 27th
7 PM
By Donation to SavetheLaSalle
Mass Appeal
Father Farley has been a priest for awhile and he certainly knows the preaching ropes. But when young Seminarian Mark Dolson is assigned to him by the rector, Farley is challenged by this bright eyed student to remember that it's more important to have the congregation as your family in your heart, not the palm of your hand.

Funny, charming, dramatic, and very moving, this play is sure to entertain.

For further information click on the link below:
A Midsummer Nights Dream
The LaSalle theatre made theatrical history in Kirkland Lake and possibly all of Northern Ontario.

The LaSalle Theatre's Shakespeare in the Park Series debuted with A Midsummer Night's Dream at Wright-Hargreaves Park. It was the first time Shakespeare in the Park was presented in KL and possibly the north.

We had an amazing cast of 26 comprised of 7 professional Toronto actors and 19 Kirkland Lakers - 16 actors and 3 musicians. It was a HUGE production. They, under the direction of our Artistic Director, Michael Rawley, worked for over a month and the cast was really excited about presenting this amazingly fun show to KL for Homecoming.

A Midsummer Night's Dream ran from Thursday June 26 - Saturday July 5 with Sunday June 29, 2014 being the day off.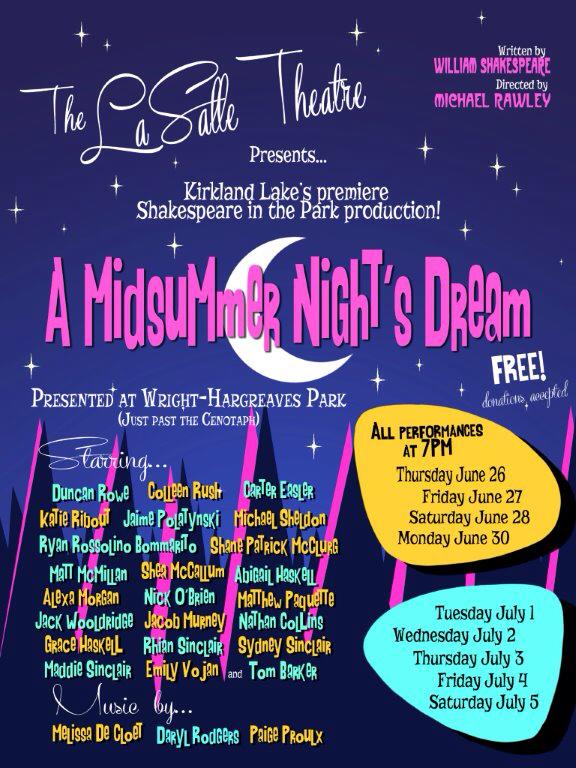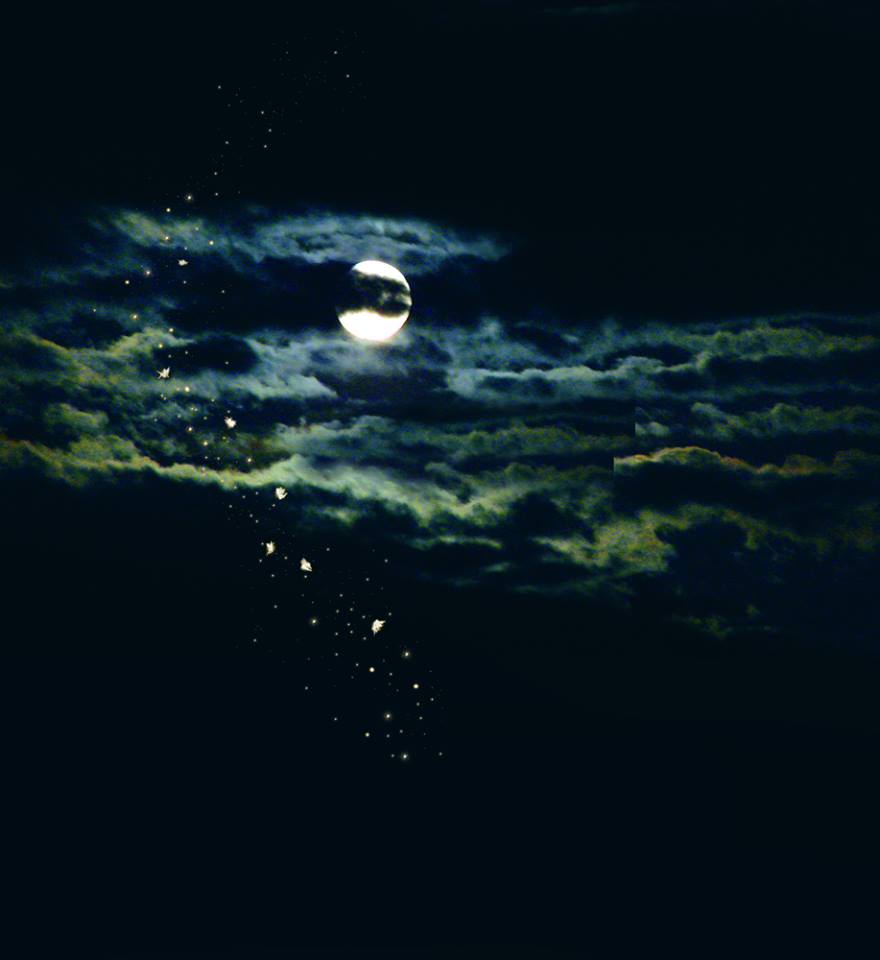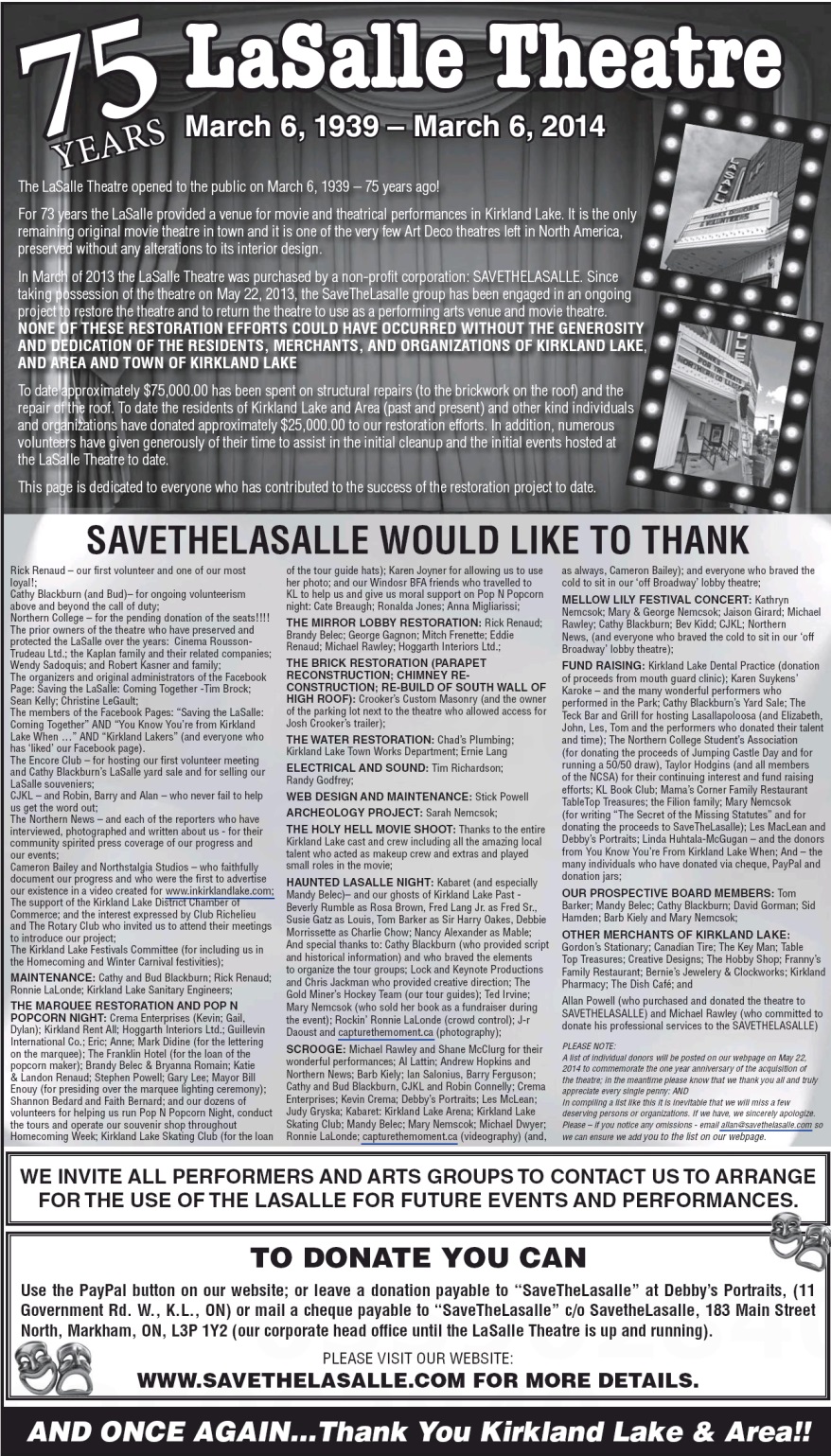 Mellow Lily, a.k.a. Kathryn Nemcsok performed at the LaSalle Theatre February 26 and 27th.
• Submitted Photo


Story and photo credit: Northern News (Kirkland Lake) - by Andrew Hopkins - February 19th, 2014


Mellow Lily, a.k.a. Kathryn Nemcsok will perform at the LaSalle Theatre next Wednesday as part of the Kirkland Lake Winter Carnival.
Nemcsok will be performing live in the lobby at the LaSalle Theatre on Wednesday February 26, and Thursday February 27 at 7:30PM as part of the Kirkland Lake Winter Carnival.
"We are turning the lobby into a coffee house for this winter performance," Michael Rawley, LaSalle Theatre's Artistic Director expressed. "Come and hear Mellow Lily in her first engagement back in her hometown of Kirkland Lake."
Nemcsok was born in Kirkland Lake and this is where her musical passion all began. She started playing piano and then received voice training with her music teacher Karen Macgregor before spreading her wings and singing on her own and writing her own songs. At 16, she picked up the guitar for the first time, and instantly fell in love.
Nemcsok prides herself on relatable lyrics, and intimate acoustic shows with an interaction with her audience.
"I enjoy actually getting to know the people I sing for, because they are the ones I write my songs for," Nemcsok said. "There is no bigger compliment than having someone say one of your songs reached out to them."
Nemcsok h??as competed in numerous competitions all over Ontario, winning gold at many music festivals, as well as the distinguished vocalist award for the Northern Ontario Music Festival. She prides herself on the many awards she has won, though her favourite accomplishment to date is qualifying for the 2013 country singing showdown in Kingston Ont. sponsored Quickstar Productions in Kingston Ont was released. The EP features 5 original songs, three of which were featured on Moose FM in North Bay in 2011.
In the summer of 2013, Mellow Lily became a local celebrity in the town of Bath, Ontario, where her music was heard echoing in the streets at festivals, restaurants, coffee shops, by Kingston's local country station, Country 93.5. In December of 2012, Nemcsok also qualified for a chance to sing on stage with Canadian artist, Jason McCoy.
In July of 2010, her 5 song EP titled "Infinite Night Stand," produced by and fundraisers. Her summer tour included festivals across southern Ontario, including Barrie, Prince Edward County, Kingston, Georgian Bay, and Belleville. She even received an invitation to play at a lounge bar in New York City, expanding her Canadian roots to the States. Since then, her music has been featured on 3 radio podcasts in the states, and her efforts to get her name out into the music scene only continue.
"I am hoping to really reach out to people, and establish a good name for myself," Nemcsok said. "I really do love the stage, and I love having an audience in front of me!"
Rawley said that the performance will be set up as a coffee house style event.
"A coffee house is traditionally a place of social interaction where people could meet to talk, have coffee and a light snack and, in the beat days of the 50s, hear some entertainment," Rawley explained. "We hope to create this atmosphere in the lobby of the LaSalle Theatre. Tables and chairs for people to sit at and have a hot drink have come in from the cold of Winter Carnival to listen to some great music."
Rawley said he came up with the idea of a coffee house because he is trying to come up with creative ways of using the lobby of the LaSalle Theatre and it seemed like a fun idea to host Mellow Lily in this setting instead of the theatre setting which we used for Scrooge: A Christmas Carol.
"I want to make the lobby a very flexible space that can host many types of events," Rawley explained. "I consulted with Kathryn and Mary Nemcsok about presenting Mellow Lily in this venue and she was very excited about it." Rawley said that Mary Nemcsok was an incredibly important volunteer in helping him in organizing this event.
"Also, this evening marks the start of the LaSalle's commitment to providing a venue and a forum for local talent," Rawley added.
Nemcsok said that she has high hopes for the future, and many goals, including releasing a new EP in the spring of 2014; while her ultimate goal is to obtain a record contract, but until that happens, she keeps her eyes to the stars.
"Give me a stage, and an audience, and I am the happiest person in the world," Nemcsok said.
Seating for the Nemcsok (Mellow Lily) performances are limited so get your tickets early to avoid disappointment as there are only 40 seats available per performance. Tickets are $10 each and available at the KL Corner Store and The Hobby Shop.
SCROOGE : A Christmas Carol - December 2013
Message from Michael: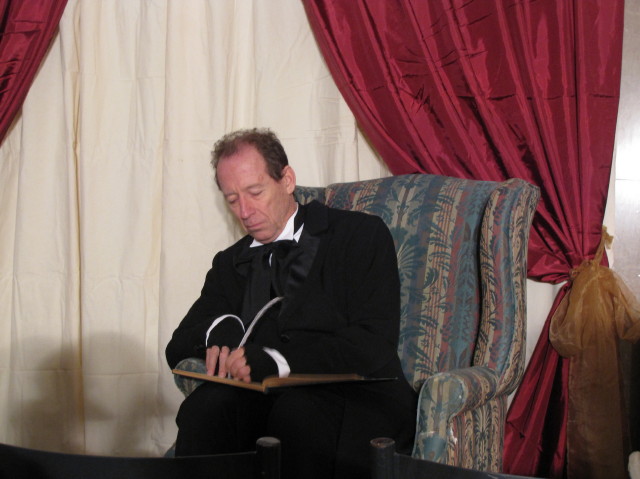 Hey folks! We had an amazing first weekend of Scrooge: A Christmas Carol in the mirror foyer of the new LaSalle. Thank you to all the enthusiastic people who saw the show and gave us all their good wishes.

We have one more weekend coming up - Saturday December 14 and Sunday December 15 both days at 2PM and 8PM. Tickets are available at the door. Adults: $15. Students: $10. and Children 11 and under: $5,

It would be great to have all the seats sold this weekend. There are only 43 seats per performance so it shouldn't be too hard to do.

Be a part of the history of the new LaSalle by being in the audience to witness the return of live theatre to the new LaSalle.

All profits will go the continued restoration of the theatre so you can be doubly happy - you see a great show and know that your ticket money is helping restore the theatre.

See you at the show. Here are some pix to show the amazing character transformation of Shane McClurg who plays over 20 characters in the play. I just play Scrooge.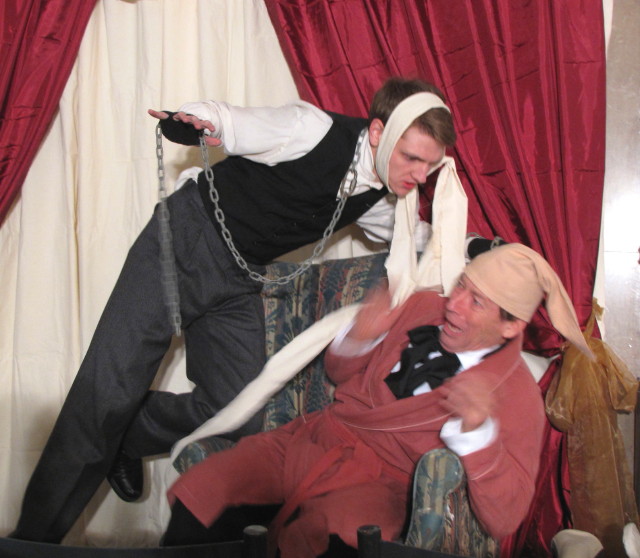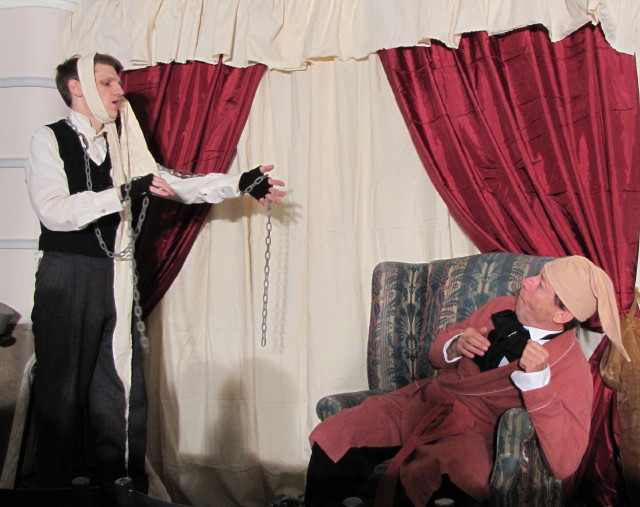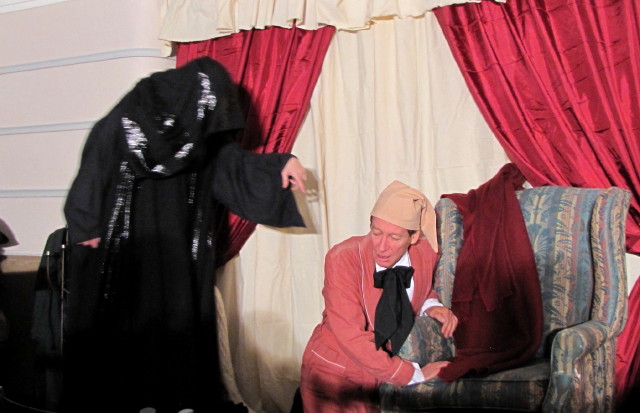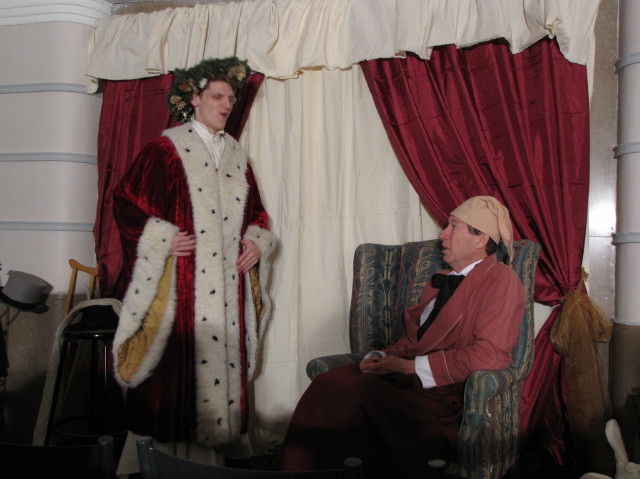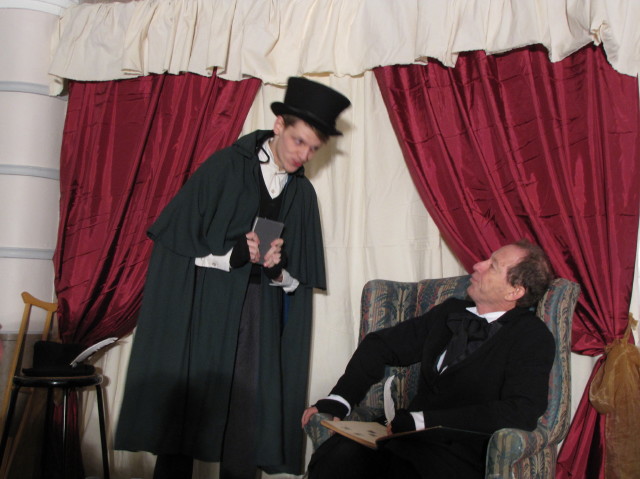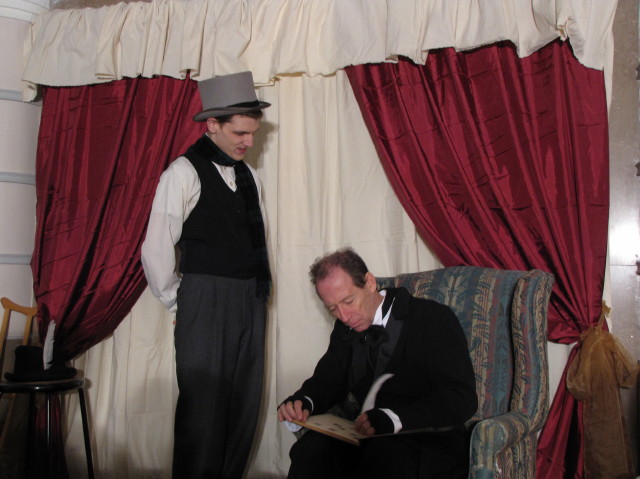 HAUNTED LASALLE October 30th 5 to 8 pm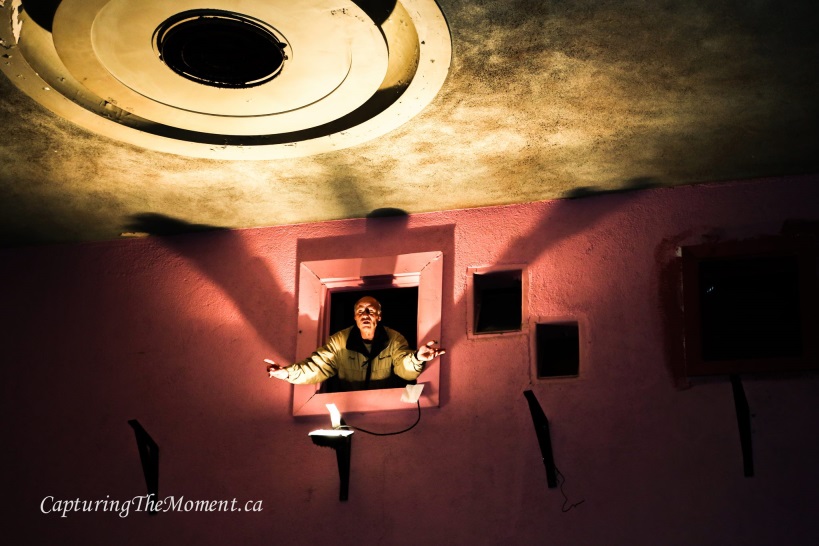 SaveTheLaSalle Theatre group hosted an inaugural "Haunted LaSalle" fundraising event October 30th, 2013.
The event consisted of a small group tour who walked though the theatre with Kirkland Lake Gold Miners hockey team members to learn some Kirkland Lake history from some friendly ghosts inside the theatre. There were 7 ghosts who each told a brief story about their history. Each is a famous person from Kirkland Lake such as Rosa Parks, Harry Oakes, Fred Lang Sr. and Max Kaplan to name a few.
This was a family event and not scary for children. The cast were some of our volunteers and members of the Kabaret theatre group.
Admission for adults was a suggested donation of $5.00. Children contributed whatever change they felt was appropriate. Costumes were welcome but not required. Popcorn and candy treats were available at the end of the tour.
We want the theatre to be used and simple community events like this are some of the ways that we can remind people that we are still here and to allow them the opportunity to see what the theatre looks like now before we get it all fixed up.
All proceeds went directly to Save the LaSalle.
Pop-n-Popcorn Night June 26th 2013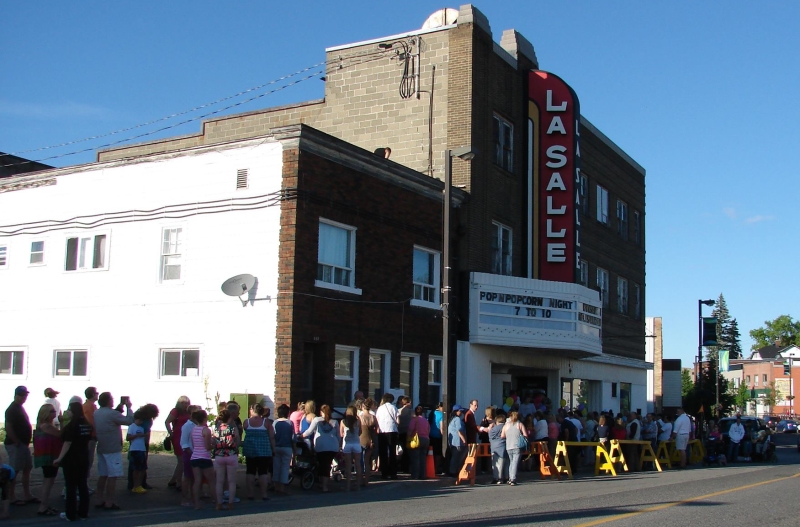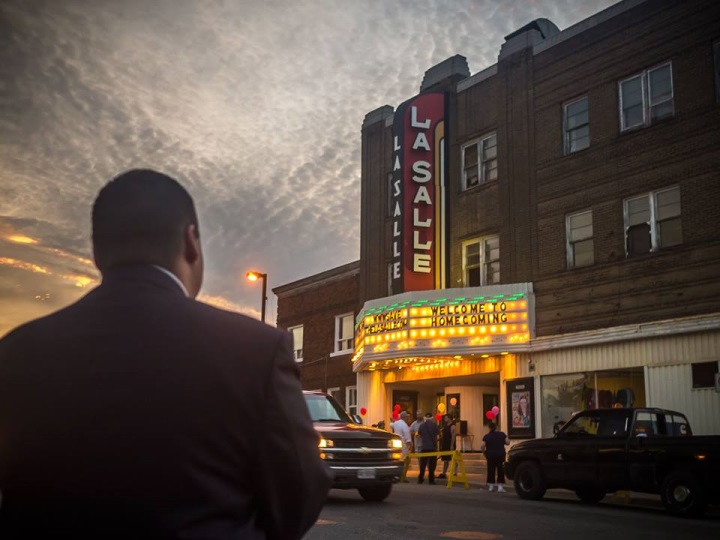 As part of 2013's Homecoming Events, on Wednesday June 26th the "Savethelasalle Group" hosted a "Pop N Popcorn" Night in front of the LaSalle Theatre - and inside the restored 'mirror foyer'.

The public was invited to attend the event from 7:00 p.m to 10:00 p.m. During this time volunteers with 'Savethelasalle' were serving free popcorn and pop to the public. There were several displays in place detailing the history of the LaSalle Theatre - including a large screen TV presentation of the first movie ever to play at the LaSalle on the day it opened - March 6, 1939. The LaSalle storefront was also open for the duration of the evening for the sale of LaSalle fundraising souvenirs (T - Shirts; Caps; Mugs; Button; Photos). There was also guided historic tours inside the Theatre for small groups - in exchange for donations to the LasSalle renovation fund. Hard hats were be provided.

At 8:00 p.m. Mayor Enouy pulled the switch to light up the newly restored marquee. Allan Powell and Michael Rawley - the founders of the 'savethelasalle group' were also be on hand to meet and greet the friends and supporters of the restoration of "Your" LaSalle.

March 6th 2014 is the 75th anniversary of the opening of the LaSalle Theatre (click here for news story)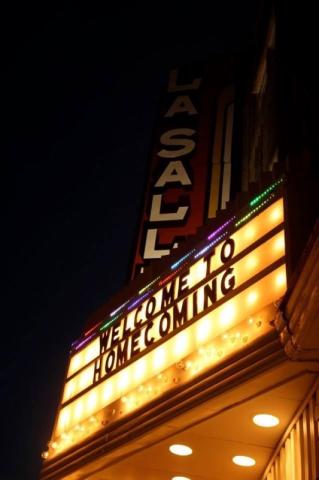 CHRONOLOGY OF EVENTS DURING THE FIRST YEAR OF SAVETHELASALLE:
March 22, 2013: Offer to purchase the LaSalle Theatre – in trust for a corporation to be incorporated - AND acceptance of Offer; March, 2013: Preparation for announcement of pending purchase – including window displays in the theatre announcing the purchase (Cameron Bailey of Northstalgia Studios noticed the activity in the theatre and created a promotional video which is still posted on www.inkirklandlake.com); April 27, 2013 – First Volunteers meeting held at the Encore Club – 100 attendees resulting in list of 70 volunteers; April 29, 2013: "SaveTheLasalle" – received confirmation that it was now a federally incorporated non-profit corporation; May 22, 2013 – SavetheLasalle received legal title to the LaSalle Theatre; May 28 to May 30, 2013 – installation of new roof membrane on the entire roof of the LaSalle; June, 2013 – Restoration of the LaSalle Theatre Marquee; June 2013 – Refurbishment and re-painting of the Mirror Foyer at the LaSalle; June 24, 2013 – 2nd Volunteers meeting held at the LaSalle to prepare and organize for Homecoming week events; June 26, 2013 – Pop N Popcorn night – in conjunction with KL Homecoming – Marquee lighting ceremony of the refurbished marquee with Mayor Enouy who "pulled the switch" to re-light the marquee– followed by tours of the interior of the theatre by approximately 600 people; July 2013: Northern College announces it will donate seats from its auditorium upon completion of its seat donation drive; July/ August 2013 – Restoration of the 3 parapets along the roof line of the LaSalle theatre façade by Crooker's Custom Masonry; July / August / September – LaSalle Theatre was used as film set for filming an independent 'grindhouse' movie: "Holy Hell" with assistance from Kirkland Lake cast and crew; -June to September, 2013 – Mouth Guard Clinic by Kirkland Lake Dental Practice with donation of profits to SaveTheLasalle; June 28, 2013 – Karen Suyken's fundraiser – proceeds to the SaveTheLasalle; September 2013 – Cathy Blackburn's yard sale – proceeds to the LaSalle; August/September: Archeology research of the LaSalle Theatre by Sarah Nemcsok; October, September 2013 – Publication of "The Secret of the Missing Statues" – a children's fiction book about the LaSalle Theatre by Mary Nemcsok – all proceeds to SaveTheLasalle; October 2013: Demolition and re-construction of the boiler chimney on the rear roof of the LaSalle; October, 2013 - Jumping Castle Day – hosted by Northern College Student's Association – proceeds to SaveTheLasalle; October 30, 2013: "Haunted LaSalle" Halloween event – featuring Kirkland Lake actors and members of the Kabaret group as ghosts of famous Kirkland Lake residents – donations from admission to Savethelasalle; October, 2013: LaSallapoloosa – fundraiser evening hosted by The Teck Bar and Grill – and Elizabeth and John – and Les MacLean - featuring local musical and comedic talent (well … Les thought he was being funny); December 9 to 15: First Live Theatre Performance in the refurbished lobby of the LaSalle of – SCROOGE: A CHRISTMAS CAROL – starring Michael Rawley and Shane McClurg; December 16, 2013 – attendance at Scrooge by the Drama Club of KLDCS; February 26, 27 – First performance at the LaSalle of a local KL musician –Mellow Lily (Kathryn Nemcsok) - Donation of 50% of the proceeds of ticket and snack sales to SavetheLaSalle;
Kabaret performance in honour of SaveTheLaSalle with songs skits and dances portraying an imaginary telethon for the LaSalle Theatre;
NOT BAD FOR JUST UNDER ONE YEAR!!!
PLEASE STAY TUNED AS WE MOVE TOWARD THE ANNIVERSARY OF OUR FIRST YEAR AS OWNERS.

WE LOOK FORWARD TO CONTINUING TO WORK WITH ALL OF YOU AS WE CONTINUE THE JOURNEY OF BRINGING THE LASALLE THEATRE BACK TO LIFE.